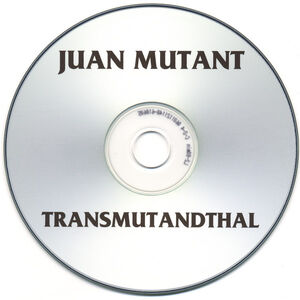 Transmutanderthal is both a live recording and an album recorded in 1992 and released in 2006. It was released in its entirety on the compilation "Sampler" by De Eenheid and then further on "The Real Sampler" and also Extreme File X.
It was performed by Juan and Ken Mutant with possible assistance from Jasper and Janos.
Although Deliriant Mutant had recorded performances and held recording sessions longer than Transmutanderthal, nothing had come up to the scale and concept of it. Recorded in one continuous session/performance it is an example of progressive industrial music with frequent use of drum machines, noise generators, vocals and distortion.
No.
Title
Length
1.
"Allow Your Presence"  
9:10
2.
"Experiment"  
2:35
3.
"Life Lies"  
7:56
4.
"Corruption"  
2:38
5.
"Satan's Seeds"  
4:59
6.
"Distort The Image Insert the Pain"  
2:57
7.
"Release The Fact"  
0:53
8.
"Long Speaches"  
12:08